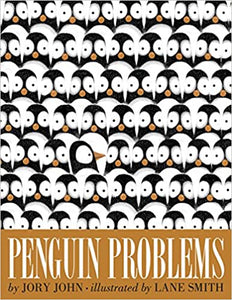 Penguin Problems by Jory John
Illustrated by Lane Smith
Young readers 3 to 7 and adults looking for self-help.
This penguin has come to tell you that life in Antarctica is no paradise. For starters, it is FREEZING. Also, penguins have a ton of natural predators. Plus, can you imagine trying to find your mom in a big ol' crowd of identical penguins? No, thank you.
 
It seems there is no escaping the drudgery of your daily grind, whatever it might be. Or perhaps we've just learned that grumps are everywhere. . . . 
 
This book is sure to tickle kids' funny bones and will elicit appreciative sighs from the adults reading it aloud.
Board book
Random House Books for Young Readers, 2016