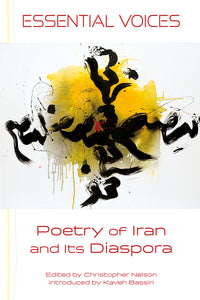 Essential Voices: Poetry of Iran and Its Diaspora, Edited by Christopher Nelson
"Essential Voices: Poetry of Iran and Its Diaspora offers a profoundly satisfying journey into the poetic canon of my homeland—an anthology with an ambition, expanse, depth, and diversity that truly earns its essential tag. So many poets I was hoping would be in here are here,  from contemporary icons to new luminaries, plus I got to explore several poets I had never before read. Everyone from students of poetry to masters of the form should take this ride through the soul and psyche of Iran, which endures no matter where the border, beyond whatever the boundary!"
--Porochista Khakpour, author of Brown Album: Essays on Exile and Identity
Between arm-flexing states, the U.S. and Iran, the past burns and the future is held hostage. In a twilight present tense, the poets emerge, sure-footed and graceful, imagining another way, another vision of being. The range of these Iranian poets is prodigious and dizzying. Sometimes they "consider the saga of a bee / humming over minefields / in pursuit of a flower," sometimes they "bring your lips near / and pour your voice / into my mouth." Essential Voices: Poetry of Iran and Its Diaspora is a place where heartbreak and hope gather. At the shores of language, drink this bracing, slaking music.   
—Philip Metres, author of Shrapnel Maps
From the Publisher:
The Essential Voices series intends to bridge English-language readers to cultures misunderstood and under- or misrepresented. It has at its heart the ancient idea that poetry can reveal our shared humanity.
Green Linden Press, 2021
Paperback book