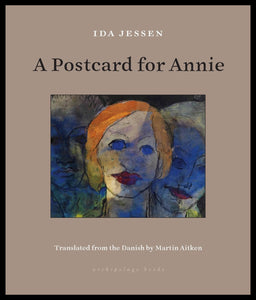 A Postcard for Annie by Ida Jessen, Translated by Martin Aitken
Release date: June 28, 2022
Translated from the Danish by Martin Aitken
The Danish writer Ida Jessen masterfully explores the female voice in her latest short story collection, A Postcard for Annie. There are six stories in total, which are all remarkably real . . . It feels as though the typical stereotypes society has enforced on us are whispering in our ears and Jessen is laughing at it all. The author's talents shine because she gives us this intoxicating interiority of strong female characters showing us how complex they are, how strong.

— Carissa Chesanek, Brooklyn Rai
Ida Jessen is widely considered to be the master of psychological realism in contemporary Danish fiction.
Short Stories:
A young woman witnesses a terrible accident with unexpected consequences, a mother sits with her unconscious son in a hospital room, a pair of sisters remember their mother's hands braiding their hair. The women in these quietly intense stories are all in one way or another out of sync with their lives and with themselves, women who appease and indulge, fret and acquiesce. Women who yearn to connect, who struggle to come to terms with unfulfilled love, for a husband, a son, a friend, who are locked inside wordless, sexless marriages, or impossibly bound by maternal bonds.
Through all six stories, Jessen's women cling to someone, someone from whom love, despite their efforts, cannot be wrung.
Paperback book