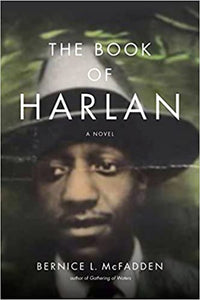 The Book of Harlan by Bernice L. McFadden
During World War II, two African American musicians are captured by the Nazis in Paris and imprisoned at the Buchenwald concentration camp.
The Book of Harlan opens with the courtship of Harlan's parents and his 1917 birth in Macon, Georgia. After his prominent minister grandfather dies, Harlan and his parents move to Harlem, where he eventually becomes a professional musician. When Harlan and his best friend, trumpeter Lizard Robbins, are invited to perform at a popular cabaret in the Parisian enclave of Montmartre—affectionately referred to as "The Harlem of Paris" by black American musicians—Harlan jumps at the opportunity, convincing Lizard to join him.
But after the City of Light falls under Nazi occupation, Harlan and Lizard are thrown into Buchenwald—the notorious concentration camp in Weimar, Germany—irreparably changing the course of Harlan's life. Based on exhaustive research and told in McFadden's mesmeric prose, The Book of Harlan skillfully blends the stories of McFadden's familial ancestors with those of real and imagined characters.
Paperback book
Akashic Books, 2016