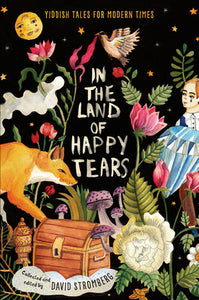 In the Land of Happy Tears: Yiddish Tales for Modern Times, edited by David Stromberg
Young readers 8 to 12 and adult readers 13 and up.
You don't need to be Jewish to love Levy's rye bread, nor do you need to read Yiddish to appreciate these wise tales. This engaging collection offers access to modern works - translated for the first time into English - for anyone who appreciates a well-told story rich with timeless wisdom. A year-round book for families. Includes a comprehensive introduction on Yiddish culture.
Yiddish Literature in Translation

Largely overlooked or forgotten, these hidden treasures from the early and middle twentieth century by some of the most respected Yiddish writers of their time - including Jacob Kreplak, Moyshe Nadir, and Rachel Shabad - remain surprisingly resonant for a contemporary audience. Folktales can be scary, as wrongdoers often get their comeuppance in unsuspected or even macabre ways, but the reinvigoration of values sometimes perceived as quaint makes for a stimulating read.
In this collection you'll meet a king who loves honey so much that instead of ruling over his people, he licks honey all day. You'll ponder the conundrum of the moon, who longs for a playmate - but where to find a child who isn't fast asleep at night? You'll enter a forest in which the king of mushrooms and the queen of ants coexist autonomously but face the same threat: the little hands and trampling feet of children at play. And you'll learn how flavoring food with the salt from tears can pose a challenging dilemma.

"Collected and arranged with the lightest of touches by David Stromberg, this gathering of little-known Yiddish tales enchants with an always-new old-world magic. In the Land of Happy Tears is utterly and actively refreshing, for the wide-eyed child in every grownup and children wising up everywhere."
—Peter Cole, poet, translator and MacArthur Prize winner 
Hardcover book 
Delacorte Books for Young Readers, 2018