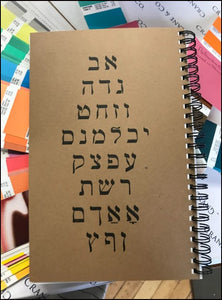 FREE! Just add to cart with your $25 or more order ~ Letterpress Alef-beys (Yiddish Alphabet) Journal
You may want a quick reference Yiddish alphabet chart. Maybe you need a smallish sketch book, journal, or notepad that slips easily into your bag. This simple blank book is spiral bound which allows the pages to lie open flat or be folded back completely for ease of writing and drawing. The  letterpress cover was printed at Big Wheel Press, Easthampton, MASS.

Specifics:
Size: 6 X 8.5"
Typography: type is cast in hot lead on a restored 1960's Ludlow Typecaster printing press using molds rescued from the Daily Forward. 
Cover: lightweight cover stock crafted on the Atlantic coast in historic Georgetown, South Carolina.
Paper: 70 lb Strathmore Premium Text Wove, white

Spine: Twin loop wire binding
50 pages
Printed exclusively for Detour Books by Big Wheel Press
Easthampton, Mass.