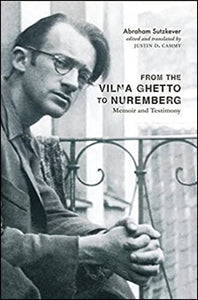 From the Vilna Ghetto to Nuremberg: Memoir and Testimony by Abraham Sutzkever, Translation by Justin D. Cammy
In 1944, the Yiddish poet Abraham Sutzkever was airlifted to Moscow from the forest where he had spent the winter among partisan fighters. There he was encouraged by Ilya Ehrenburg, the most famous Soviet Jewish writer of his day, to write a memoir of his two years in the Vilna Ghetto. Now, seventy-five years after it appeared in Yiddish in 1946, Justin Cammy provides a full English translation of one of the earliest published memoirs of the destruction of the city known throughout the Jewish world as the Jerusalem of Lithuania.


Based on his own experiences, his conversations with survivors, and his consultation with materials hidden in the ghetto and recovered after the liberation of his hometown, Sutzkever's memoir rests at the intersection of postwar Holocaust literature and history. He grappled with the responsibility to produce a document that would indict the perpetrators and provide an account of both the horrors and the resilience of Jewish life under Nazi rule.
Cammy bases his translation on the two extant versions of the full text of the memoir and includes Sutzkever's diary notes and full testimony at the Nuremberg Trials in 1946. Fascinating reminiscences of leading Soviet Yiddish cultural figures Sutzkever encountered during his time in Moscow - Ehrenburg, Yiddish modernist poet Peretz Markish, and director of the State Yiddish Theatre Shloyme Mikhoels - reveal the constraints of the political environment in which the memoir was composed.

Both shocking and moving in its intensity, From the Vilna Ghetto to Nuremberg returns readers to a moment when the scale of the Holocaust was first coming into focus, through the eyes of one survivor who attempted to make sense of daily life, resistance, and death in the ghetto.


2 maps, 20 illustrations
Paperback book
McGill-Queen's University Press, October 2021