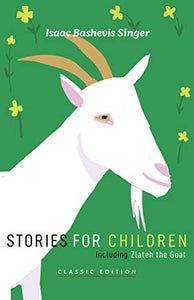 Stories for Children by Isaac Bashevis Singer
An ALA Notable Children's Book
"In our time, when the literature for adults is deteriorating, good books for children are the only hope, the only refuge. Many adults read and enjoy children's books. We write not only for children but also for their parents. They, too, are serious children."

– Isaac Bashevis Singer, from the epilogue.
Isaac Bashevis Singer is known for his mastery of storytelling – but it was not until 1966, at the age of sixty-two, that he published his first children's book, Zlateh the Goat, a Newbery Honor Book and instant classic. Singer went on to write many stories for children, most of which are included in this volume, along with a brief introduction and a special epilogue, "Are Children the Ultimate Literary Critics?"
The collection presents exuberant and timeless tales for children rich in fantasy and deeply rooted in the lost cultural tradition of his native Poland.
A number of the stories appear in book form for the first time – and all have been translated from the Yiddish with the author's personal supervision.
Paperback book
IBS Classic Editions, 2021
Reviews:
"Stories for children is a book of diverse pleasures and beauties, of laughter and reverence. It may well turn out to be one of the best and longest loved of all Mr. Singer's books."
– Edmund Fuller, The Wall Street Journal
"Most appealing is the Nobel Prize winner's sheer storytelling power. In this respect, he has no equal among contemporaries."
– Leonard Michaels, The New York Times Book Review