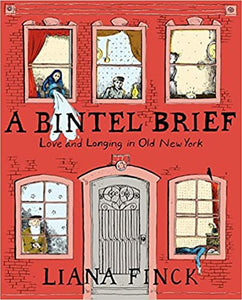 A Bintel Brief: Love and Longing in Old New York by Liana Finck
In an illustrative style that is a thrilling mash-up of Art Spiegelman's deft emotionality, Roz Chast's hilarious neuroses, and the magical spirit of Marc Chagall, A Bintel Brief is Liana Finck's evocative, elegiac love letter to the turn-of-the-century Jewish immigrants who transformed New York City and America itself.
A Bintel Brief "A Bundle of Letters"—was the enormously popular advice column of The Forward, the widely read Yiddish language newspaper begun in 1906 New York. Written by a diverse community of Eastern European Jewish immigrants, these letters spoke to the daily heartbreaks and comedies of their new lives, capturing the hope, isolation, and confusion of assimilation.
Drawn from these letters—selected and adapted by Liana Finck and brought to life in her appealing two-color illustrations—A Bintel Brief is a tour of Lower East Side New York, and includes an imaginative conversation with the Yiddish "Dear Abby," Abraham Cahan, The Forward's legendary editor and creator of the Bintel Brief column.
From premarital sex to family politics to struggles with jobs and money, A Bintel Brief is an enlightening look at a segment of America's rich cultural past that offers fresh insights for our own lives as well.
Paperback book 
Ecco, 2014