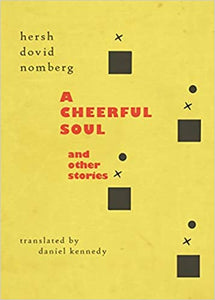 A Cheerful Soul and Other Stories by Hersh Dovid Nomberg, Translated by Daniel Kennedy
Translated from the Yiddish by Daniel Kennedy

Now largely forgotten, Hersh Dovid Nomberg was once one of the most popular Yiddish writers of his generation, best known for his short stories delving into the concerns and psychologies of those on the margins of society.
These eight stories, collected and translated by Daniel Kennedy, center around a motley cast of wanderers and exiles: modern Jews who have left their homes to join Europe's counterculture of bohemians, artists, aesthetes and freethinkers. Tales of rivalry, debauchery and revenge in the Western European diaspora; mournful happenings on snowy mountain peaks; the comings and goings of various oddballs and outcasts in émigré boarding houses, and the pangs of immigrant nostalgia.
"Nomberg never wrote a sentence that didn't contain the seeds of an idea."
- Froyim Kaganovski
Paperback Book 
Snuggly Press, 2021