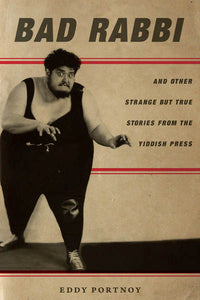 Bad Rabbi: And Other Strange but True Stories from the Yiddish Press by Eddy Portnoy
Author Eddy Portnoy's dedication, "For the two-bit nobodies" draws readers in to an underground history of downwardly mobile Jews. 
Bad Rabbi exposes the seamy underbelly of pre-WWII New York and Warsaw, the two major centers of Yiddish culture in the late nineteenth and early twentieth centuries.
One part Isaac Bashevis Singer, one part Jerry Springer, this irreverent, unvarnished, and frequently hilarious compendium of stories provides a window into an unknown Yiddish world that was.
With true stories plucked from the pages of the Yiddish papers, Portnoy introduces us to the drunks, thieves, murderers, wrestlers, poets, and beauty queens whose misadventures were immortalized in print.
There's the Polish rabbi blackmailed by an American widow, mass brawls at weddings and funerals, a psychic who specialized in locating missing husbands, and violent gangs of Jewish mothers on the prowl—in short, not quite the Jews you'd expect.
"Exuberantly vulgar, blithely unconcerned with gentile opinion, these nuggets of low-class Yiddishism won't let us forget how rough-and-tumble life in Yiddishland really was."
--Michael Wex, author of Born to Kvetch: Yiddish Language in All of Its Moods