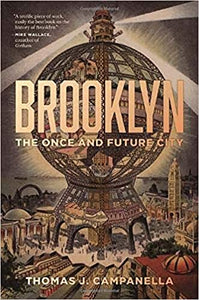 Brooklyn: The Once and Future City by Thomas J. Campanella
America's mos storied urban underdog, Brooklyn has become an internationally recognized brand in recent decades―celebrated and scorned as one of the hippest destinations in the world. In Brooklyn: The Once and Future City, Thomas J. Campanella tells the rich history of the rise, fall, and reinvention of one of the world's most resurgent cities.
Brooklyn-born Campanella recounts the creation of places familiar and long forgotten, bringing to life the individuals whose dreams, visions, rackets, and schemes forged the city we know today. He reveals how this immigrant Promised Land drew millions, fell victim to its own social anxieties, and yet proved resilient enough to reawaken as a multicultural powerhouse and global symbol of urban vitality.
Paperback book 
Princeton University Press, 2020