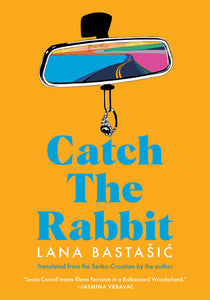 Catch the Rabbit by Lana Bastašić
Winner of the 2020 European Union Prize for Literature
Translated from the Serbo-Croatian by the author.
Lana Bastašić's powerful debut novel Catch the Rabbit is a modern-day Alice in Wonderland set in post-war Bosnia, in which two young women plunge into the illusive landscape of their shared history.
It's been twelve years since inseparable childhood friends Lejla and Sara have spoken, but an unexpected phone call thrusts Sara back into a world she left behind, a language she's buried, and painful memories that rise unbidden to the surface. Lejla's magnetic pull hasn't lessened despite the distance between Dublin and Bosnia or the years of silence imposed by a youthful misunderstanding, and Sara finds herself returning home, driven by curiosity and guilt. Embarking on a road trip from Bosnia to Vienna in search of Lejla's exiled brother Armin, the two travel down the rabbit hole of their shared past and question how they've arrived at their present, disparate realities.
"The narrative reaches a greatly satisfying climax, built on themes of rediscovering the past, memories, women's friendships, language, and identity. This unforgettable tour de force surprises at every turn."

--Publishers Weekly, Starred Review
Paperback book
Restless Books, 2021