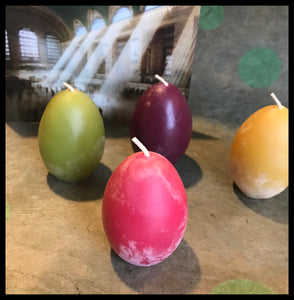 Oval Shaped Candles - Set of Four
Sold as Set of 4
Remember: the Easter Bunny does not own this shape. Just like Santa Claus doesn't own the color red.
Modern oval shaped candles designed by Sunbeam Candles in Ithaca, N.Y. We've been looking at them for weeks. Beauties one and all.

One of each color make a set of four in stylized gift wrap.
Expertly crafted with 100% pure beeswax and a cotton wick.

Specifics:
Diameter: 2.5 x 2.5 inches

Hand poured using 100% pure beeswax

Colors: flamingo, lilac, moss and natural

Eco-friendly dyes, and a cotton wick.