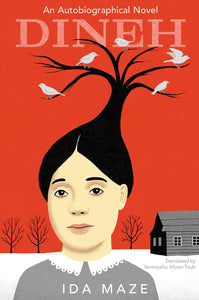 Dineh: An Autobiographical Novel by Ida Maze
Bound in New England
Translated by Yermiyahu Ahron Taub
DINEH, posthumously published, is an autobiographical Yiddish-language novel by Ida Maze (1893–1962). DINEH is a pastorale laced in beauty and sorrow and a bildungsroman told from the point of view of a young girl.
Set entirely in what is now Belarus, Maze's eponymous heroine is fueled by her hunger for learning, connection to family and community, and love of the natural world.
Maze interweaves Dineh's story with portraits of others, chiefly women and girls, in her community. We meet the mysterious seamstress Shprintse; Beyle, who leaves home to work as a maidservant in Minsk; and Hinde, who falls in love with a young nobleman, among numerous unforgettable others.
Maze unflinchingly examines the lives of women, writing about class stratification, thwarted romance, violence (domestic, state-instigated, and otherwise), and the perils of childbirth. She was also interested in the lives of non-Jews and in relations between Jews and non-Jews. Propelling the novel forward are the tightening noose of Tsarist anti-Semitism, the increasing restrictions on Jewish economic survival, and the rising tide of revolutionary movements. Taken as a whole, Dineh provides a haunting portrait of rural, village, and small-town life in White Russia in the last decade of the nineteenth and early years of the twentieth centuries.  
Paperback
White Goat Press, 2022