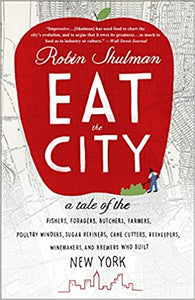 Eat the City: A Tale of the Fishers, Foragers, Butchers, Farmers, Poultry Minders, Sugar Refiners, Cane Cutters, Beekeepers, Winemakers, and Brewers Who Built New York by Robin Shulman
New York, the city of money, glass, and concrete, seems like no kind of place to produce food. Yet in this smart, funny, and beautifully written book, Robin Shulman places today's urban food production in the context of hundreds of years of history, tracing the changing ways we live and eat. As Shulman tells the story of New York's ability to feed people, she also shows the things we've always longed for in the cities that we build: closer human connections and a sense of something pure. 
     Food, of course, is about hunger—but it's also about community. With humor and insight, Eat the City shows how, in places like New York, people have always found ways to use their collective hunger to build their own kind of city.
Paperback book 
Broadway Books, 2013