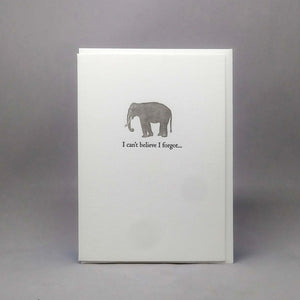 Elephant: I can't believe I forgot... Note Card
Everyone forgets sometimes. Redeem yourself with this elephant's memory note card.

This card series is a bit smaller for those intimate messages of few words. Or for those who write tiny like my friend and bookbinder extraordinaire Kylin.
Big Wheel Press brings back this classic card from Karen Battles of B Design.
Intimate size: 3 1/2 X 4 7/8 inches
Printed by Big Wheel Press, Easthampton, Mass.