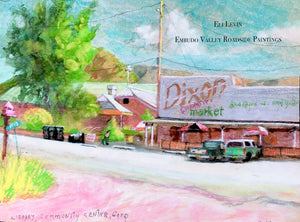 Embudo Valley Roadside Paintings by Eli Levin
In 2019, the painter Eli Levin began a rapid series of watercolor compositions that he just as quickly published into this intimate exploration of Dixon, New Mexico. The pages of Embudo Valley Roadside Paintings offer viewers richly saturated watercolor scenes of work and home life in this rural, high desert village. Along with the paintings are Levin's sparse, but keen observations of an array of structures and homes with the occasional wry quip either about or directly from their owners.
Dixon is nearly 50 miles north of Santa Fe, the once scrappy art colony that developed into one of the most sought-after art markets in the world. Since 1971, Levin has had one foot in each community hosting drawing and printmaking groups at his house and studio in Santa Fe. Then heading for the hills of the Embudo valley each weekend to paint and work on his second home, a routine that lasted nearly 40 years.
In 2000, Levin moved to Dixon full time. While the landscape has always been an inspiration, for this project Levin has focused on the homes, businesses and community centers that have slowly integrated into the countryside of this high desert time capsule.
Levin described his life there in a recent letter:
I lived in Santa Fe from 1964 to 2000. I loved the first 30 years. Then it got too gentrified and posh. Now Dixon is a lot like Santa Fe used to be in the 1960s and 70s.
Paperback book 
Privately Published, 2019