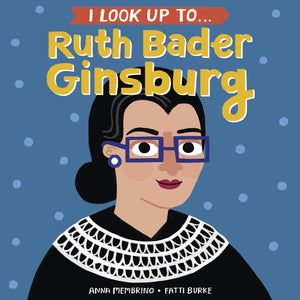 I Look Up To... Ruth Bader Ginsburg by Anna Membrino, Board Book
Tiny readers newborn to 5 years
Illustrated by Fatti Burke
It's never too early to introduce your child to the people you admire! This board book distills Ruth Bader Ginsburg's excellent qualities into deliciously illustrated little baby-sized bites, with text designed to share and read aloud.

Each page spread highlights an important trait, and is enhanced by a quote from RBG herself. Kids will grow up hearing the words of this influential woman and will learn what YOU value in a person!

The I LOOK UP TO . . . series aims to shine a spotlight on women making a difference in the world today, and to encourage young kids to follow in their footsteps!
Board book 
Random House Books for Young Readers, 2018