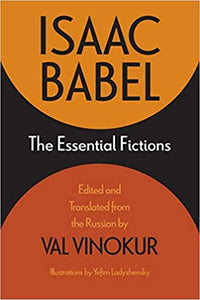 Isaac Babel: The Essential Fictions, Edited and translated by Val Vinokur
Edited and translated from the Russian by Val Vinokur
Includes 18 richly detailed drawings by Yefim Ladyzhensky
The Essential Fictions offers contemporary readers seventy-two short stories by one of twentieth-century Russia's premier storytellers, Isaac Babel. This unique volume, which includes Babel's famous Red Cavalry series and his Odessa Stories, is translated, edited, introduced, and annotated by Val Vinokur, a 2008 Guggenheim Fellow in Translation, and features illustrations by Yefim Ladyzhensky, a painter known for his depictions of everyday life under Soviet rule in Babel's native Odessa.
Babel was born in 1894 into multicultural Odessa's thriving Jewish community. Working as a journalist, he witnessed the Bolshevik Revolution and Civil War, and accompanied the Cossack horsemen of the Red Cavalry during the 1920 Polish-Soviet War, distilling these experiences into his fiction. Vinokur highlights Babel's "horrified hopefulness" and "doleful and bespectacled Jewish comedy" in the face of the bloody conflicts that plagued his generation.
On the centenary of the revolution that toppled the Romanov tsars, Babel's fictions continue to absorb and fascinate contemporary readers interested in eastern European and Jewish literature as well as the history and politics of the twentieth century.
Paperback book
Northwestern University Press, 2017