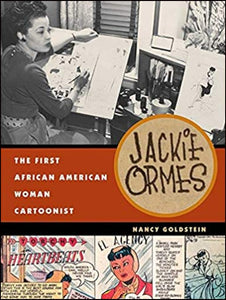 Jackie Ormes: The First African American Woman Cartoonist by Nancy Goldstein
Readers 13 and up
In the United States at mid-century, in an era when there were few opportunities for women in general and even fewer for African American women, Jackie Ormes blazed a trail as a popular artist with the major black newspapers of the day.
Jackie Ormes chronicles the life of this multiply talented, fascinating woman who became a successful commercial artist and cartoonist. Ormes's cartoon characters (including Torchy Brown, Candy, and Patty-Jo 'n' Ginger) delighted readers of newspapers such as the Pittsburgh Courier and Chicago Defender, and spawned other products, including fashionable paper dolls in the Sunday papers and a black doll with her own extensive and stylish wardrobe. Ormes was a member of Chicago's Black elite in the postwar era, and her social circle included the leading political figures and entertainers of the day. Her politics, which fell decidedly to the left and were apparent to even a casual reader of her cartoons and comic strips, eventually led to her investigation by the FBI.
The book includes a generous selection of Ormes's cartoons and comic strips, which provide an invaluable glimpse into U.S. culture and history of the 1937-56 era as interpreted by Ormes. Her topics include racial segregation, cold war politics, educational equality, the atom bomb, and environmental pollution, among other pressing issues of the times.
"I am so delighted to see an entire book about the great Jackie Ormes! This is a book that will appeal to multiple audiences: comics scholars, feminists, African Americans, and doll collectors. . . ."
---Trina Robbins, author of A Century of Women Cartoonists and The Great Women Cartoonists
Nancy Goldstein became fascinated in the story of Jackie Ormes while doing research on the Patty-Jo Doll. She has published a number of articles on the history of dolls in the United States and is an avid collector.
Paperback book 
University of Michigan Press, 2019