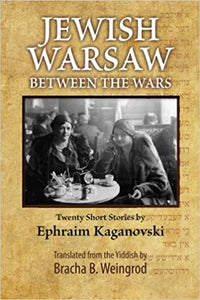 Jewish Warsaw Between the Wars: Twenty Stories by Ephraim Froyim Kaganovski, Translated by Bracha B. Weingrod
Yiddish Literature in Translation
Translated by Bracha B. Weingrod
Froyim (Ephraim) Kaganovski (1893-1958) had his first story published when he was 16 years old. He spent his early career among the Yiddish literary circles in Warsaw and Odessa, primarily writing stories for Yiddish newspapers.
Kaganovski was one of the most popular Yiddish writers of his time, and his short stories were praised for their character shaping, romantic motifs and subtle humor. Kaganovski was also one of the first Yiddish writers to focus on the city rather than the shtetl.
The stories in this collection are descriptive of a period of change in Jewish living and thinking in Poland. They are poignant vignettes of sexual awakenings, religious versus secular frustrations, deep insights into the inner thoughts of aging persons as well as delightful 'Sholem Aleichem' type comedy. Kaganovski was a true craftsman of the short story, influenced by writers such as Chekhov and De Maupassant. His conclusions were often of an 'O.Henry' sort, leaving the reader with an open-ended paradoxical feeling. His sensuous response to color (he was also an accomplished artist) and mood: languid descriptions of women, details of both poverty and middle class bourgeois attitudes regarding Jews and Gentiles are clearly evoked. He had an uncanny empathy with both the innermost feelings of eager young women as well as the sick and dying.
Kaganovski traced the life of old Socialists with their lusty sloganeering, and the tense moments between bearded 'Yidden' and local Polish hunters; the dissonance was clear and their lifestyles so completely different. Kaganovski's descriptions of the countryside wax almost poetic and the strong influence of sexual attraction finds a soft understanding voice. These are the urban tales of modern Warsaw in the nineteen twenties and thirties.

Paperback book
CreateSpace Independent Publishers, 2016