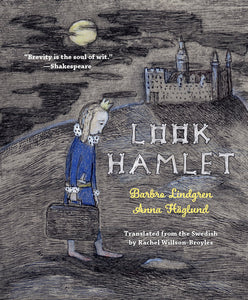 Look Hamlet, A Graphic Retelling of Shakespeare's Hamlet by Barbro Lindgren and Anna Höglund
Connection to Brooklyn: Independent Publisher Restless Books is located in Brooklyn.
Translated from the Swedish by Rachel Willson-Broyles
Look Hamlet.
Hamlet not happy.
Hamlet's mommy dumb.
Hamlet's daddy dead.
So begins this wonderfully strange, dark, and hilarious picture book version of Shakespeare's greatest tragedy boiled down to its smallest possible size: 100 words, give or take, and fifteen etchings that look like the lovechild of Beatrix Potter and Edward Gorey, rendered by illustrator Anna Höglund.
In our despondent antihero, a lop-eared bunny Hamlet with handbag in tow, is somehow embodied all the tremendous pathos of Shakespeare's Danish Prince. And in legendary Swedish children's author Barbro Lindgren's pithy prose resides the poetry of the original, reworked for the era of memes and short attention spans.
Bold and brilliant, irreverent and humane, Look Hamlet is the perfect irreverent gift for Shakespeare readers of all ages. As the Bard himself wrote: "brevity is the soul of wit."
Hardcover book 
Intimate size 6 x 7"
Restless Books Classics, 2019