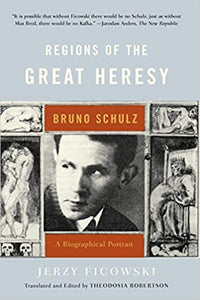 Regions of the Great Heresy: Bruno Schulz, A Biographical Portrait by Jerzy Ficowski
Translated by Theodosia Robertson
"A prolonged labor of love [and] a model of a kind of penetrating adoration."  
-Richard Bernstein, New York Times

Sixty years after his murder by the Nazis, Bruno Schulz, one of the twentieth century's greatest and most enigmatic writers, is experiencing a renaissance in part occasioned by this biography by the renowned Polish poet Jerzy Ficowski. Widely regarded as the world's foremost authority on Schulz, Ficowski reconstructs the author's life story and evokes the fictional vision of his best-known works, The Street of Crocodiles and Sanatorium Under the Sign of the Hourglass.
Including many of Schulz's paintings and letters as well as new information on the Mossad's removal of Schulz's murals from Poland in 2001, this book will stand for years to come as the definitive account of the author's tragic life.
Developed for publication by The Jewish Heritage Project's International Initiative for Literature of the Holocaust.
35 illustrations.
Paperback book
W.W. Norton & Company, 2004