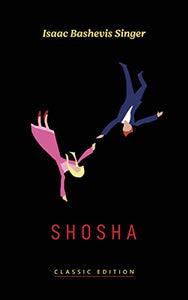 Shosha by Isaac Bashevis Singer
Set in Warsaw, in the period leading up to the Nazi invasion of Poland, Shosha is Isaac Bashevis Singer's ode to the beloved city he left in 1935. The story centers on a young Yiddish writer, Aaron Greidinger, who is caught between the fast-paced life of an emerging literati, with its many love affairs and philosophical frustrations, and his yearning for the irretrievable past – embodied in the figure of Shosha: a developmentally challenged young woman with whom he was in love as a child.
The book gives voice to the anxiety of the coming war and an internal conflict between a desire for a pure past, and a fall into the existential absurdity of modern life – in which thrills are abundant, values no longer hold, and society is hurtling toward total upheaval.
Originally appearing serially in Yiddish in 1974 under the title Soul Expeditions, Shosha was first published in English translation in 1978, the year Singer received the Nobel Prize for Literature.
Paperback book
Goodreads Press, 2020