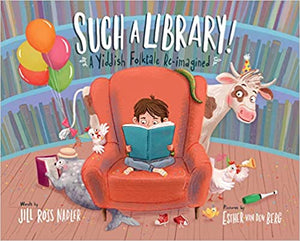 Such a Library!: A Yiddish Folktale Re-Imagined by Jill Ross Nadler ~ SPECIAL PRICE
Young readers - preschool to 5 yrs

Illustrated by Esther Van Den Berg
An old Yiddish folktale in a modern-day library... with a magical librarian!
What a find! There are a growing number of writers and illustrators who have discovered the Yiddish children's story canon and are bringing these delightful tales into English through translation or re-telling. Tiny life lessons that spark historical connections and reading, reading, reading!
Stevie craves quiet until he meets Miss Understood, a magical librarian whose books come to life and wreak havoc in this modern-day twist on an old Yiddish folktale.
Hardcover Book 
Intergalactic Afikoman, 2020