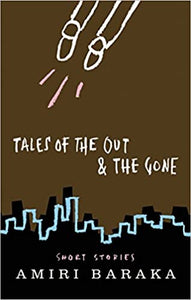 Tales of the Out & the Gone by Amiri Baraka
Connection to Brooklyn: Independent Publisher Akashic Books is located in Brooklyn.
Comprised of short fiction spanning the early 1970s to the twenty-first century—most of which has never been published—Tales of the Out & the Gone reflects the astounding evolution of America's most provocative literary anti-hero.
The first section of the book, "War Stories," offers six stories enmeshed in the volatile politics of the '70s and '80s; the second section, "Tales of the Out & the Gone," reveals Amiri Baraka's increasing literary adventurousness, combining an unpredictable language play with a passion for abstraction and psychological exploration.
Throughout, Baraka's unique and constantly changing literary style will educate readers on the evolution of one of America's most accomplished literary masters of the past four decades.
Paperback book 2006
Akashic Books