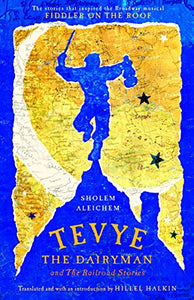 Tevye the Dairyman and The Railroad Stories by Sholem Aleichem, Translated by Hillel Halkin
Staff Pick:
Tevye the Dairyman and the Railroad Stories
"These stories--some of the most well-known in the Yiddish canon--are a great way to dip your toe into Yiddish literature. These tales are so beloved that they have been adapted time and again in shows like Fiddler on the Roof.

Tevye is required reading in any Introduction to Yiddish Literature course due to its comedic and relatable style. Sholem Aleichem's name is a Yiddish greeting, and rightly so, since he does an excellent job of welcoming readers into the world of Yiddish literature."
Salem Frobose, Yiddish Studies Scholar
Translated by Hillel Halkin
Of all the characters in modern Jewish fiction, the most beloved is Tevye, the compassionate, irrepressible, Bible-quoting dairyman from Anatevka, who has been immortalized in the writings of Sholem Aleichem and in acclaimed and award-winning theatrical and film adaptations.

And no Yiddish writer was more beloved than Tevye's creator, Sholem Rabinovich (1859–1916), the "Jewish Mark Twain," who wrote under the pen name of Sholem Aleichem. Beautifully translated by Hillel Halkin, here is Sholem Aleichem's heartwarming and poignant account of Tevye and his daughters, together with the "Railroad Stories," twenty-one tales that examine human nature and modernity as they are perceived by men and women riding the trains from shtetl to shtetl.
Paperback book 
Schocken Books, 1996