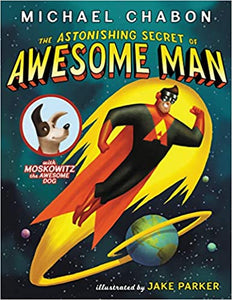 The Astonishing Secret of Awesome Man by Michael Chabon
Illustrated by Jake Parker
Awesome Man can shoot positronic rays out of his eyeballs, fly as straight as an arrow and hug mutant Jell-O! Even villains like Professor Von Evil and the Flaming Eyeball are no match for this caped crusader.

But Awesome Man also has a secret... Can you guess what it is?

The first picture book from Pulitzer Prize-winning novelist Michael Chabon perfectly captures the fantasy life of young superhero fans.

A great gift for the superhero obsessed, this book also models a fun way to deal with emotions - by being positronic!
Paperback book

Quill Tree Books, 2020