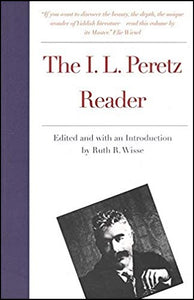 The I.L. Peretz Reader, Edited by Ruth R. Wisse
"For any American reader, this will be a handy and skillfully edited selection of the most representative writings of one of the masters of world literature. For any Jewish American reader, it will also be a monument in commemoration of . . . a writer who . . . laid the foundations for the modern Yiddish literary tradition."
—Stanislaw Baranczak, The New Republic
Author I.L. Peretz recognized that Jews needed to adapt to their times while preserving their cultural heritage, and his captivating and beautiful writings explore the complexities inherent in the struggle between tradition and the desire for progress.
This book, which presents a memoir, poem, travelogue, and twenty-six stories by Peretz, also provides a detailed essay about Peretz's life by Ruth R. Wisse.
This edition also includes Peretz's great visionary drama A Night in the Old Marketplace, in a rhymed, performable translation by Hillel Halkin.
Paperback book
Yale University Press, 2002