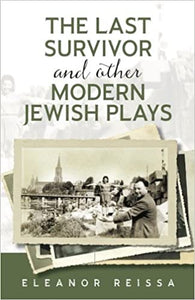 The Last Survivor and Other Modern Jewish Plays by Eleanor Reissa
About the book:

In this anthology, author Eleanor Reissa encompasses six decades of modern Jewish life in the United States. These family plays explore the subtle and not-so-subtle effects on a modern woman in a post-Holocaust world. They are bound together by a unique slant toward life, death, God and love. They explore what is humanly and inhumanly possible. The plays go straight to the heart.
The characters are brave and funny, tragic and mighty. These plays dispatch sentimental stereotypes, come to grips with life's disappointments and losses, and finally find the joy in knowing them. The Chicago Tribune says, "Profoundly, beautifully moving... a life affirming dance."
Beyond her work as an author, Ms. Reissa is a true renaissance woman - Yiddish diva, director, Tony Award nominated actor and singer - who performed around the world with Klezmer greats Frank London and the Klezmatics as well as fronting her own bands.

Paperback 2016