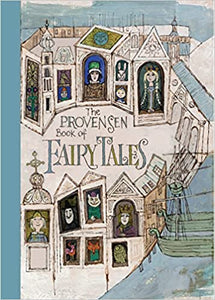 The Provensen Book of Fairy Tales by Alice Provensen and Martin Provensen
Now back in print, a beautifully illustrated collection of twelve reimagined fairy tales, including classics like "Beauty and the Beast" and literary tales like Oscar Wilde's "The Happy Prince."

Alice and Martin Provensen were one of the most talented husband-and-wife author-illustrator teams of the twentieth century. A long-out-of-print cult classic first published 50 years ago, The Provensen Book of Fairy Tales is a treasury of their illustrations accompanied by fairy tales from authors such as A. A. Milne, Hans Christian Andersen, and Oscar Wilde.
Here too are clever retellings and newly imagined tales: refined old favorites like Arthur Rackham's "Beauty and the Beast," feminist revisions like Elinor Mordaunt's "The Prince and the Goose Girl," and sensitive stories by literary stylists like Henry Beston's "The Lost Half-Hour" and Katharine Pyle's "The Dreamer." Full of magic, ingenuity, and humor, The Provensen Book of Fairy Tales is a witty modern descendant of Grimm's Fairy Tales and a classic in its own right, sure to be beloved by a new generation.
Hardcover book
NYR Children's Books, 2021