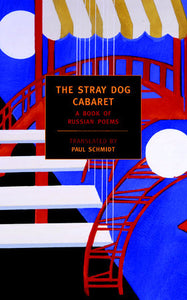 The Stray Dog Cabaret: A Book of Russian Poems, translated by Paul Schmidt
A master anthology of Russia's most important poetry, newly collected and never before published in English.

In the years before the 1917 Russian Revolution, the Stray Dog cabaret in St. Petersburg was the haunt of poets, artists and musicians, a place to meet, drink, read, brawl, celebrate and witness stage performances of all kinds. It has since become a symbol of the extraordinary literary ferment of that time. It was then that Alexander Blok composed his apocalyptic sequence "Twelve"; that the futurists Velimir Khlebnikov and Vladimir Mayakovsky exploded language into bold new forms; that the lapidary lyrics of Osip Mandelstam and plangent love poems of Anna Akhmatova saw the light; that the electrifying Marina Tsvetaeva stunned and dazzled everyone. Boris Pasternak was also of this company, putting together his great youthful hymn to nature, My Sister, Life.

It was a transforming moment - not just for Russian but for world poetry - and a short-lived one. Within little more than a decade, revolution and terror were to disperse, silence and destroy almost all the poets of the Stray Dog cabaret.
Paperback book 
New York Review Books, 2006