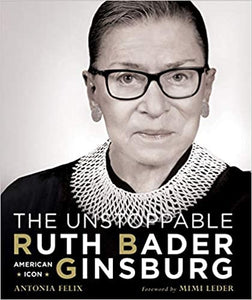 The Unstoppable Ruth Bader Ginsburg: American Icon by Antonia Felix, $29.99 Special Price $20
Not only does Ruth Bader Ginsburg possess one of the greatest legal minds of our time, she has become an admired pop culture icon. In 2018, Ginsburg celebrates her 25th anniversary as a justice of the Supreme Court. With 130 photographs, inspiring quotes, highlights from notable speeches and judicial opinions, and insightful commentary - plus a foreword by Mimi Leder - this gorgeously illustrated book pays tribute to RBG, whose work on behalf of gender equality, and whose unprecedented career itself, indelibly changed American society.
 
The Unstoppable Ruth Bader Ginsburg covers her formative years growing up in Brooklyn; her time at Cornell University and at Harvard and Columbia Law Schools; her marriage and partnership with husband, Marty; her landmark cases; and the prejudice she overcame to reach the pinnacle of her field as the second woman to ascend to the country's highest court. It also highlights the many "firsts" she achieved—including her becoming the first female tenured professor at Columbia Law School and cofounding the first Women's Rights Project for the ACLU - while becoming a true American icon and pop culture sensation celebrated in the award-winning documentary RBG and the 2018 feature film about her origins, On the Basis of Sex.
Hardcover book 
Sterling Illustrated Editions, 2018