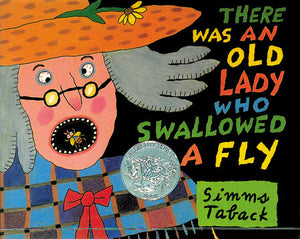 There Was An Old Lady Who Swallowed a Fly by Simms Taback
Young readers 3 to 7
Caldecott Honor Book
An old favorite as you've never see it before!
Everyone knows the song about the old lady who swallowed a fly, a spider, a bird, and even worse, but who's ever seen what's going on inside the old lady's stomach?
Interactive design:
With this inventive die-cut artwork, Simms Tabak gives us a rollicking, eye-popping version of the well-loved poem.
Hardcover book
Viking Books for Young, 1997