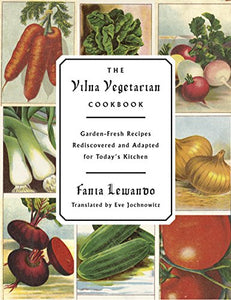 The Vilna Vegetarian Cookbook ~ Reissued by YIVO
Update: October 2022
Big News!
YIVO has re-issued this book.
We are not able to stock the book at this time due to publisher's restrictions. But we want to celebrate the re-issue and encourage sales of the book through the new online store at YIVO. 
Translated from the Yiddish by Eve Jochnowitz
With a foreword by Joan Nathan
Beautifully translated for a new generation of devotees of delicious and healthy eating:  a groundbreaking, mouthwatering vegetarian cookbook originally published in Yiddish in pre–World War II Vilna and miraculously rediscovered more than half a century later. 
In 1938, Fania Lewando, the proprietor of a popular vegetarian restaurant in Vilna, Lithuania, published a Yiddish vegetarian cookbook unlike any that had come before. Its 400 recipes ranged from traditional Jewish dishes (kugel, blintzes, fruit compote, borscht) to vegetarian versions of Jewish holiday staples (cholent, kishke, schnitzel) to appetizers, soups, main courses, and desserts that introduced vegetables and fruits that had not traditionally been part of the repertoire of the Jewish homemaker (Chickpea Cutlets, Jerusalem Artichoke Soup; Leek Frittata; Apple Charlotte with Whole Wheat Breadcrumbs). Also included were impassioned essays by Lewando and by a physician about the benefits of vegetarianism. Accompanying the recipes were lush full-color drawings of vegetables and fruit that had originally appeared on bilingual (Yiddish and English) seed packets. Lewando's cookbook was sold throughout Europe. 

Lewando and her husband died during World War II, and it was assumed that all but a few family-owned and archival copies of her cookbook vanished along with most of European Jewry. But in 1995 a couple attending an antiquarian book fair in England came upon a copy of Lewando's cookbook. Recognizing its historical value, they purchased it and donated it to the YIVO Institute for Jewish Research in New York City, the premier repository for books and artifacts relating to prewar European Jewry. Enchanted by the book's contents and by its backstory, YIVO commissioned a translation of the book that will make Lewando's charming, delicious, and practical recipes available to an audience beyond the wildest dreams of the visionary woman who created them.
 Full-color illustrations throughout.

About the Author:
FANIA LEWANDO (c. 1887–1941?) was the proprietor of a popular vegetarian restaurant in pre–World War II Vilna, Lithuania. She was also a noted nutrition advocate and founded a "dietary school" that taught Jewish women healthy cooking techniques. Fleeing the Nazi invasion of Vilna in the fall of 1941, she and her husband were captured by Soviet soldiers and died sometime thereafter.
Hardcover book
Schocken Books, 2015
Reissue in process