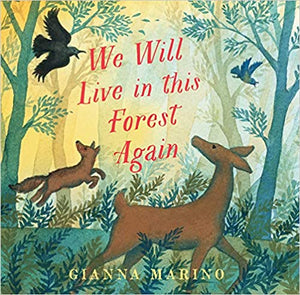 We Will Live in This Forest Again by Gianna Marino
Young readers 3 to 8 years
When wildfires consume their forest home, the animals must flee--but as the flames subside, they return and look to new beginnings . . .

At first, they didn't notice the spark flying above the dry treetops.

But then the smoke blew from the north, and the flames began to grow. . .

This story of recovery and resilience will comfort young readers concerned about forest fires, reassuring them that in time new growth will sprout and, like the wildlife in the story, we can rebuild.

Lush watercolor illustrations explore the bittersweet cycle of burning and rebirth in the forest, following a lone deer as it sees its only home scorched by flame--and later, returns to find new plants already sprouting, the promise of a day when the air will be filled with birdsong once again.

As a Northern California resident, Gianna Marino witnessed the 2017 Sonoma wildfire firsthand when it came within inches of destroying her property. Her personal experience is palpably reflected through her portrayal of dignified animal silhouettes and stark, ashen landscapes in the wake of the flames. The book closes with an essay describing her encounter with the wildfire. Accessible information on wildfires, including a list of recommendations for further reading, is also included.
Hardcover book
Holiday House, 2020