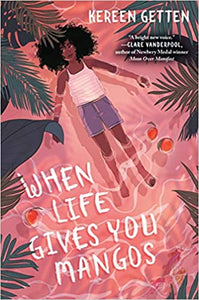 When Life Gives You Mangos by Kereen Getten
Readers 8 to 13
"A wonderful story with great heart, mystery and insight. Kereen Getten is a bright new voice." —Clare Vanderpool, author of Newbery Medal winner Moon Over Manifest and Printz Honor book Navigating Early 

For fans of deeply poignant middle grade about friendship and loss like The Thing About Jellyfish, comes the story about a young girl who can't remember anything from her previous summer after a hurricane.
    
Twelve-year-old Clara lives on an island that visitors call exotic. But there's nothing exotic about it to Clara. She loves eating ripe mangos off the ground, running outside in the rain with her Papa during rainy season and going to her secret hideout with Gaynah - even though lately she's not acting like a best friend. 

The only thing out of the ordinary for Clara is that something happened to her memory that made her forget everything that happened last summer after a hurricane hit. Sometimes things come back to her in drips like a tap that hasn't been turned off properly. Other times her Mama fills in the blanks - only Clara knows those aren't her memories and it is hard feeling like she is not like everybody else. 

But this summer is going to be different for Clara. Everyone is buzzing with excitement over a new girl in the village who is not like other visitors. She is about to make big waves on the island - and give Clara a summer she won't forget.


Hardcover book 
Delacorte Books for Young Readers, 2020