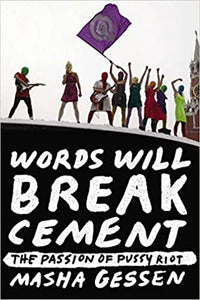 Words Will Break Cement: The Passion of Pussy Riot by Masha Gessen
Only 2 left~
The heroic story of Pussy Riot, who resurrected the power of truth in a society built on lies.

On February 21, 2012, five young women entered the Cathedral of Christ the Savior in Moscow. In neon-colored dresses, tights, and balaclavas, they performed a "punk prayer" beseeching the "Mother of God" to "get rid of Putin." They were quickly shut down by security, and in the weeks and months that followed, three of the women were arrested and tried, and two were sentenced to a remote prison colony. But the incident captured international headlines, and footage of it went viral. People across the globe recognized not only a fierce act of political confrontation but also an inspired work of art that, in a time and place saturated with lies, found a new way to speak the truth.

Masha Gessen's riveting account tells how such a phenomenon came about. Drawing on her exclusive, extensive access to the members of Pussy Riot and their families and associates, she reconstructs the fascinating personal journeys that transformed a group of young women into artists with a shared vision, gave them the courage and imagination to express it unforgettably, and endowed them with the strength to endure the devastating loneliness and isolation that have been the price of their triumph.
Paperback book 
Riverhead Books, 2014