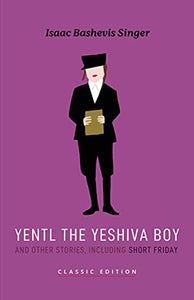 Yentl the Yeshiva Boy and Other Stories: including Short Friday by Isaac Bashevis Singer
First published as Short Friday and Other Stories, Singer's 1965 collection presents a profoundly gifted writer who can deftly immerse the reader in a rich sensory experience of both bygone and modern life.
The collection features some of Singer's most provocative early stories, including "Blood," "Taibele and Her Demon," "The Last Demon," and "Yentl the Yeshiva Boy," which was later adapted for the screen by Barbara Streisand. One moment the reader has goosebumps, the next her heart is inspired to the heights of human inspiration, as each story takes its twists and turns to offer new insights into the richness of life and its wonders.
Paperback book
Goodreads Press, 2021